Purchase a Cowtown Scots T-Shirt or Shoulder/Cap Patch Now!
50% Polyester / 25% Cotton / 25% Rayon
Colors: Heather Charcoal (as shown left) Maroon Glaize & Black Frost
Sizes: Adults Small, Medium, Large, X-Large and XX-Large
Price: $15 + $4.85 Shipping = $19.85
Be sure to note size & color on your order
Order online via Paypal below
CSS Fully Embroidered Shoulder/Cap/Shirt Patch
3.5" tall by 2.5" wide (as shown left)
Great for Caps, Sleeves, Shirts, Bags, iPad Covers, Dog Halters & much more, Aye, even your Flask . . . sewn on fabric or glued to a hard surface
Price: $5 + $1 shipping = $6.00
Order online via Paypal below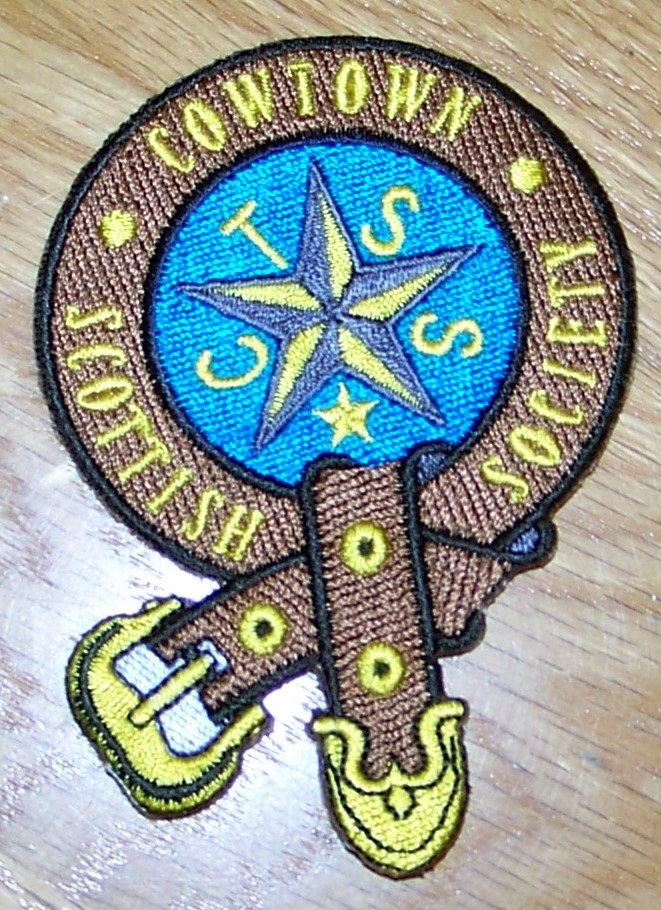 Either item can also be ordered by mail. Send a check to Cowtown Scots at Shay Patterson, P.O. Box 1255, Decatur, TX 76234
Sadly, our 2020 St. Andrew's Nicht Celebration, as well as our 2021 Robert Burn s Memorial Supper, has been cancelled due to '2nd Wave' spike in the COVID-19 Pandemic.
Hopefully, we can return with our annual Mid-Summer's Day Ceilidh & Scotch Tasting in July 2021
Watch here for further announcements