Purchase a Cowtown Scots T-Shirt or Shoulder/Cap Patch Now!
50% Polyester / 25% Cotton / 25% Rayon
Colors: Heather Charcoal (as shown left) Maroon Glaize & Black Frost
Sizes: Adults Small, Medium, Large, X-Large and XX-Large
Price: $15 + $4.85 Shipping = $19.85
Be sure to note size & color on your order
Order online via Paypal below
CSS Fully Embroidered Shoulder Patch
3.5" tall by 2.5" wide (as shown left)
Great for Caps, Sleeves, Shirts, Bags, iPad Covers, Dog Halters & much more, Aye, even your Flask . . . sewn on fabric or glued to a hard surface
Price: $5 + $1 shipping = $6.00
Order online via Paypal below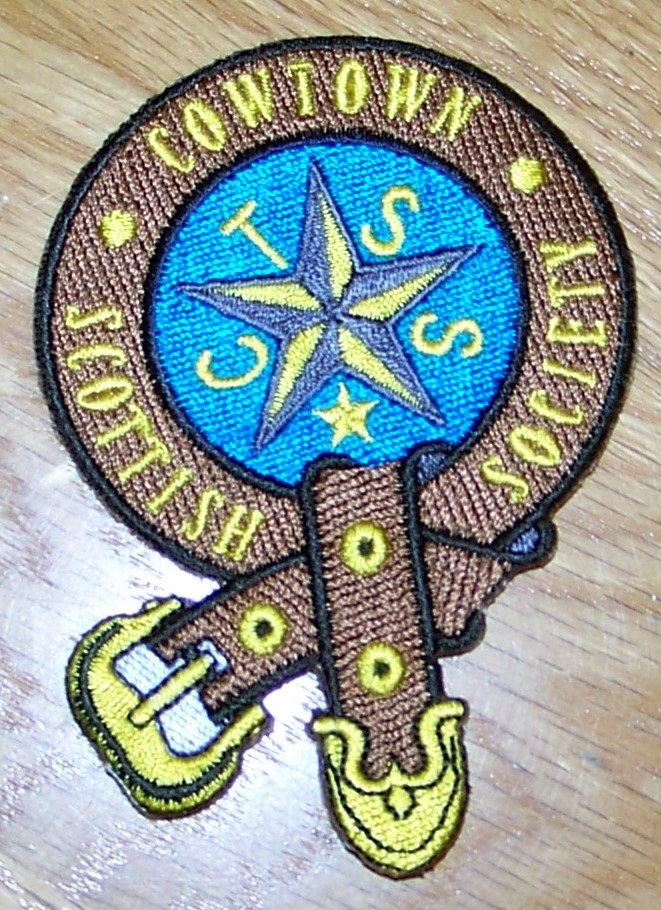 Either item can also be ordered by mail. Send a check to Cowtown Scots at Shay Patterson, P.O. Box 1255, Decatur, TX 76234
Sadly, our 2020 St. Andrew's Nicht Celebration has been cancelled due to '2nd Wave' spike in the COVID-19 Pandemic.
Also, our Robert Burns Memorial Supper, scehduled for January 16, 2021 will likely be postponed until at least March 27, 2021 . . . maybe later
Watch here for further announcements